June 17, 2021

Electrophysiology services now available at Auburn Medical Center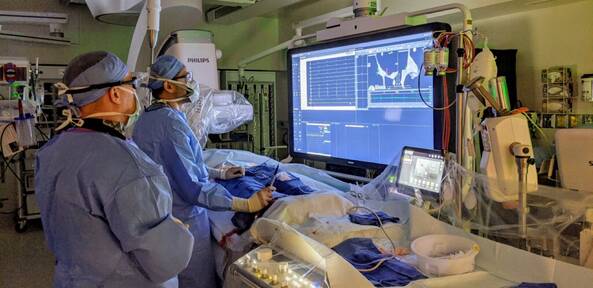 Tariq Salam, MD, Electrophysiology Cardiologist and Medical Director of the EP Center of Excellence, and the Pulse Heart Institute Puget Sound Region (PSR) EP Team completed the first EP Ablation case at Auburn Medical Center on January 29. The case was very successful and the procedure was done without fluoroscopy, ensuring less exposure to radiation for both the patient and staff. Dr. Salam and his team are known for their work advancing fluoroless ablations.
Dr. Salam explained, "Our fantastic team was able to successfully deploy a Mobile EP service which is a milestone for our COE. I am proud of their hard work and commitment to make this happen. We are looking forward to many more cases in our outlying facilities for years to come. We even got to do the ablation procedure without fluoro!"
The PSR EP team went mobile to utilize the state of the art cardiac catheterization lab at AMC and provide patients life-altering care close to home. This specialized team of electrophysiology technologists are highly trained; the team requires all technologists assisting in electrophysiology procedures have specialized credentials in electrophysiology (RCES, CEPS and/or CCDS).
Jason Parks, Pulse Heart Institute Chief Executive, thanked the team for their hard work in bringing a mobile EP service to fruition to better serve our communities. As he stated, "This is a huge step forward for the services we provide in South King County".
Congratulations to Dr. Salam and the leadership team including Mike McDonald, Manager of Cardiovascular Diagnostics; Tina Soete, Clinical Director; Scott Eichelberger, Clinical Administrator and Jody Shaw, AMC Cath Lab Manager, who stayed with the patient until the end of the procedure and into recovery. EP Technologists Lane Wilson, Shawn Heady and Registered Nurse Jeff Suarez were the Mobile EP team that seamlessly performed the procedure. Lane also meticulously planned the set up and break down of the EP lab – no easy task.
Arrhythmias, or heart rhythm disorders — where illnesses or defects cause your heart to beat too slow or too fast — affect millions of people in the United States each year. For example, between 2.7 and 6.1 million adults are estimated to have atrial fibrillation, a common heart rhythm disorder, and 130,000 deaths each year are attributed to it.
Pulse Heart Institute's Heart Rhythm Center is the largest and longest running Center in the South Sound specializing in complex heart rhythm disorders including atrial fibrillation, ventricular tachycardia ablation, lead extractions and cardiac resynchronization therapy.
More News