Offering the latest stroke treatment options
A stroke, or brain attack, occurs when not enough oxygen-rich blood is reaching part of the brain. Without this nourishment, blood cells die. The usual result of a stroke is weakness or paralysis of one side of the body.
Time is tissue
A stroke is a life-threatening medical emergency and requires immediate medical attention. When it comes to stroke, "time is tissue." People who delay seeking medical care for more than one hour after experiencing stroke symptoms have a much higher likelihood of permenent damage to brain tissue, disability and death. So it's critical that patients get the treatment they need as soon as possible.
MultiCare's award-winning stroke program
MultiCare Good Samaritan Hospital and MultiCare Auburn Medical Center are state-designated Level Two stroke centers, and MultiCare Allenmore Hospital is designated as a Level Three center for stroke care.
MultiCare's overall stroke program in the Puget Sound region was awarded a Five Star ranking from Health Grades.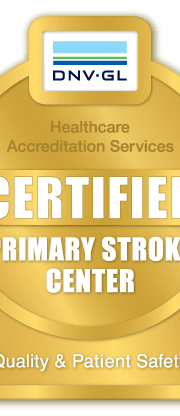 MultiCare Tacoma General Hospital is state-designated as a Level One Stroke Center, able to provide the highest level of care for patients with stroke. Tacoma General is also the first hospital in the South Sound to be designated as a Comprehensive Stroke Center by DNV GL – Healthcare, reflecting the highest level of competence for treating serious stroke events.
How we help
Patients who come to MultiCare for stroke care have access to:
Rapid response teams — Specially trained teams are ready and waiting 24 hours a day to provide prompt, effective evaluation and treatment for stroke.
State-of-the-art diagnostic tools — These tools enable specialists to visualize the brain and blood supply in seconds and begin life-saving treatment as quickly as possible. Neurological assessments, such as profusion diffusion imaging, allow MultiCare's stroke teams to visualize the blood supply to the brain within seconds.
The latest treatment options — Treatment options for stroke at MultiCare range the latest non-invasive treatments such as clot-dissolving medications, to neurosurgical intervention — including use of the Apollo System — for other patients with strokes caused by cerebral hemorrhaging.
Expert collaboration — Close cooperation between the staffs of our hospitals, the MultiCare Neuroscience Center of Washington and the Emergency Medical System ensures the highest caliber of care to stroke patients.
Good Samaritan Regional Rehabilitation Center Services — Through MultiCare, patients recovering from stroke have access to everything from nutrition counseling and social services to speech, physical and occupational therapy. Part of our comprehensive rehab program is the inpatient rehabilitation program at Good Samaritan Hospital. This program is accredited by the Commission on Accreditation of Rehabilitation Facilities (CARF).
Pioneering physicians — Dr. Brian Kott is the South Sound's first endovascular interventional neuroradiologist. He performs life-saving procedures inside the vessels of the brain to treat strokes and aneurysms without invasive surgery. Dr. Kott is helping people get lifesaving care without an ambulance trip to Seattle — a trip that is both time-consuming and risky.
The MultiCare Institute for Research & Innovation — where researchers are working hard to improve the lives of stroke patients.
Contact us
To learn more about MultiCare's nationally recognized stroke program, call the MultiCare Neuroscience Center of Washington at 253-403-7277.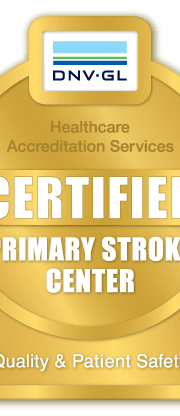 More awards and accolades | Auburn Medical Center and Good Samaritan Hospital earned the 2018 Get With The Guidelines Stroke Gold Plus Quality Achievement Award. Good Samaritan also qualified for  Honor Roll Elite Plus status. Auburn Medical Center, and Good Samaritan Hospital have also been designated Primary Stroke Centers by DNV GL Healthcare, while Allenmore Hospital and Covington Medical Center are certified Acute Stroke Ready.