02.10.2021
Mary Bridge Brigade celebrates 100-year anniversary
By Kortney Scroger
The late Justice Ruth Bader Ginsberg once said, "fight for the things that you care about, but do it in a way that will lead others to join you."
For 100 years, the women of the Tacoma Orthopedic Association (TOA), now the Mary Bridge Brigade, have done just that. February 2021 marks a century of woman leading the charge to support health care for children in the South Sound.
The group began when 15 women started driving children with orthopedic needs from Tacoma to Seattle for treatment because care was not available in Pierce County. In 1921, these women formed the Tacoma Orthopedic Association (TOA) and set an ambitious goal to build a children's hospital in Tacoma. From the very beginning, their mission was to ensure that all children in their community had access to the care they needed, regardless of their family's ability to pay.
The TOA's first big victory came when they received funding from an estate gift from Albert Bridge, a local physician who left money in his will for a children's clinic to be named after his mother, Mary.
The TOA secured the remaining funding they needed to build a children's hospital through grassroots fundraising efforts: collecting and selling tin; hosting baked goods and flower sales; and penny drives.
In 1955, the doors of Mary Bridge Children's Hospital opened.
Tacoma native, Robert Roegner, now 72, was one of the first patients admitted to Mary Bridge Children's Hospital.
"I remember my mom saying I was going to get my tonsils removed at the new children's hospital, and it seemed exciting," Robert says. "I can still recall being wheeled through the hospital with another young child as doctors, nurses and caregivers lined the hallways applauding the hospital's very first patients."
Today, the TOA is known as the Mary Bridge Brigade. For the last 66 years, Mary Bridge Children's and the Mary Bridge Brigade have been partners in making sure all children, like Robert, have access to the best, compassionate care. The Mary Bridge Brigade is the largest donor to Mary Bridge Children's, contributing $50 million over the decades to advance care throughout Mary Bridge Children's Hospital & Health Network. In recent years, this funding has helped purchase robotics-based assistive technology for corrective spinal surgeries and equipment needs for the Mary Bridge Children's Outpatient Center in Gig Harbor.
"Making sure we are able to provide great health care influences children's physical and emotional health, growth and development and their capacity to reach their full potential," Mary Bridge Brigade President, Dianne Hargreaves says. "The Mary Bridge Brigade feels it is imperative to ensure that all children are as healthy as they can be — just the same as those 15 women believed back in 1921."
10 million reasons to celebrate another century of the Mary Bridge Brigade
Last July, Mary Bridge Children's announced plans to build a new hospital facility by 2025, the next evolution of the dream envisioned a century ago.
In true Mary Bridge Brigade fashion, not only were they one of the first groups to make a donation to the new building, but they also made the biggest single donation in the history of their organization – $10 million.
"My hopes and dreams for the next 100 years are that the Brigade will continue to challenge ourselves, to think bigger and strive even harder on behalf of all the sick and injured children in our community," Dianne says. "To make sure we continue with our legacy to care for all families, regardless of their ability to pay and rise to the challenge so that every child who needs exceptional and compassionate care will receive it."
---
Become a Mary Bridge Brigade member
There are 30 active Mary Bridge Brigade guilds. Guild membership includes community leaders, Mary Bridge Children's staff, grateful families, former patients and volunteers passionate about children's health care.
Guild members meet regularly to organize fundraising events, participate in other guild events and support Mary Bridge Brigade projects.
Learn more at marybridgebrigade.org/our-guilds.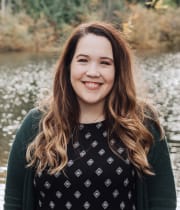 About the Author
Kortney Scroger
Kortney Scroger is a communication specialist for the MultiCare Foundations. She writes stories that connect readers to the impact of giving.
More Stories By This Author